Orange County Register columnist Mark Whicker writes about "Balloon Boy" Falcon Heene in his famous style.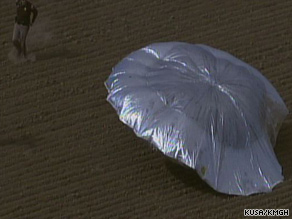 It doesn't sound as if Falcon Heene got to see a sports page.
Box scores were not available to him from 3:00 p.m. until 7:00 p.m. yesterday.
He never saw a highlight. Never got to the ballpark for Beach Towel Night. Probably hasn't high-fived in a while.
He was unable to spike a volleyball. Or pitch a softball. Or smack a forehand down the line. Or run in a 5-footer for double bogey. (Assuming there wasn't a volleyball, softball, tennis racket or golf clubs in the attack; many people do keep them there.)
Now, that's deprivation.
Can you imagine? Heene was 6 when he untied his father's weather balloon in the backyard and then ran up into the attic and fell asleep. He was still 6, but some four hours older when he was found. Penitentiary inmates at least get to sleep in a bed. Heene was cut off from everything but his toys and insulation.
How long before he fully digests the world he re-enters? How difficult to adjust to such cataclysmic change?
More than that, who's going to explain the fact that it's nighttime?
Heene's father says he's going to need a lot of discipline — you think? — so perhaps he should take a respite before confronting the new realities.
So, Falcon, when you're ready, here's what you've missed:
— Lebron James, who was among the greats in sports, wound up being treated for H1N1. How did such a strong guy manage that? We'll deal with that later.
— He got swine flu.
— The NLCS, which had yet to begin, had made it to Game 1 batting practice.
— No. 8 Cincinnati left their hotel in Tampa to go to the stadium to play No. 21 South Florida.
—Well, that's pretty much it. Four hours isn't actually all that long for sports news, especially in the middle of the afternoon on a Thursday.
Congratulations, Falcon. You left the attic.