Why? Because it's fun.
Here is Kurt Rambis, new head coach of the Minnesota Timberwolves. Oh, what, Ricky Rubio — is he not cosmopolitan enough for you?


In his early days in the league, Kurt Rambis made a name for himself by rebounding, setting picks and serial killing.



Rambis' high prescription often left him with intense headaches.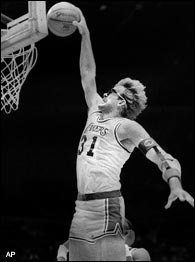 Rambis worked diligently on his vertical leap so he could get close enough to see what that orangeish blur was that everyone was always shooting at.



Kurt Rambis did your mom.



If you look closely, you can see that Kurt Rambis' testicles also wear a set of black-rimmed glasses.



Last year the Lakers coaching staff got a deal at Pearle Vision on glasses thanks to Rambis being a loyal customer for years. This was taken a few days after Brian Shaw went blind.



Rambis sometimes sheds his glasses so he can hone his coaching instincts using only his hearing, smell and touch.